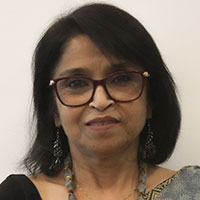 Achal Khanna
CEO, SHRM India, APAC & MENA
Achal Khanna is the CEO for SHRM India, APAC & MENA. SHRM India is a wholly owned subsidiary of the Society for Human Resource Management (SHRM), which is the world's largest association devoted to human resource management with more than 3,00,000 HR and business executive members in 165 countries.
Achal is responsible for leading the India operations of SHRM, as well as Asia Pacific operations including Middle-East. She serves on the global SHRM Leadership Team and is responsible for building the brand, expanding its business and developing professional relationships with government agencies, and other HR and business associations in the region.
Achal has over 30 years of work experience. Prior to joining SHRM, she was Managing Director for Kelly India operations; Vice President for GE; and Country Manager for Polaroid India. She has also worked with Dupont, ITC and Cosmo Group in various capacities.
She is a recipient of the "Best Women Executive in India" award.
Achal holds a Bachelor's degree in Economics; a Master's Degree in English Literature and she is an MBA from Delhi.