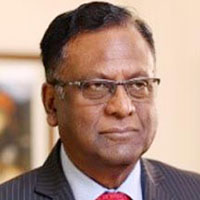 P Dwarakanath
Former Chairman, GSK Consumer Healthcare
Mr. Dwarakanath brings a rich and varied experience of five decades in the arena of Leadership development ,Human Capital. Legal and Corporate Governance. Till recently , he was the Chairman of GSK Consumer Healthcare and associated with GDK over four decades. He has held Board/Advisory positions in various organisations. He was also associated with Max and Shriram Groups.
His passion for building a progressive and people-centric culture is apparent from the fact that GSK had been adjudged as one of India's "Best Employers" for several years. His initiative to drive the new corporate culture during times of integration, through 'Simply Better Way', was a benchmark for then SmithKline Beecham.
He has held several management positions in the various professional bodies. To name a few, he was the President of National Human Resources Development Network (NHRDN), President of Delhi Management Association (DMA), Regional President – Northern Region of All India Management Association (AIMA) and Treasurer of AIMA. He has received several prestigious awards for his valuable contribution to the business and also in the field of Human Resources and Leadership Development.