MAIN HALL SESSIONS
2-3 December 2021 | UTC +5:30
MEGA SESSIONS
2-3 December 2021 | UTC +5:30
WORKSHOPS
2-3 December 2021 | UTC +5:30
PSE CONCLAVE
3 December 2021 | UTC +5:30
DAY 2
The distinct trend towards a more multipolar world has been the hallmark of the past decade, and the power centre of the global economy began to shift, slowly yet surely, to Asia. Interestingly, the churn in the international power equations had begun way before the pandemic hit, owing to geopolitical shifts. Aided by the superior optics for the manner in which the crisis was handled, India is poised to prioritize economic expansion and sustainability for faster growth and influence on the world stage. This session discusses the infinite potential that our nation holds, for us to grasp and make the most of.
Amitabh Kant
CEO, NITI Aayog
Discover how a profound cultural transformation is possible when four cultural attributes are prioritized: openness, simplicity, empowerment with accountability and leaders developing leaders. This session will equip you to engage in transformation when needed, using tools, methodology and best practices from your daily work.
Learning Objectives:
Understand HR leaders' role in a cultural transformation
Obtain examples of tools, methodology and processes that can be used to build a successful cultural transformation
Engage in knowledge sharing
Dr Praveer Sinha
CEO & Managing Director of The Tata Power Company Limited
Anand Shankar
Group Human Resources at Tata Group & Director - Tata Management Training Center
Be transported into the mystical world of music with Sonam Kalra. and understand the importance of Oneness with the creator of 'The Sufi Gospel Project'- as she talks about this original and new genre of music that combines the many voice of faith to create one universal voice of faith. Using prayer, poetry and music to transcend the barriers of region and religion.
Sonam Kalra
Award winning singer & composer, Creator of The Sufi Gospel Project
The workplace disruption caused by the novel coronavirus has made the role of CHROs and their partnership with CEOs more critical than ever before. CHROs have been involved in every aspect of business - from strategic conversations about growth, costs, to productivity, and now, to chart out the new models of the workplace for the future. The pandemic has put people in the spotlight, making it a fantastic time to be in HR. It however, also means that each one is expected to step up and deliver.
In this session, CXOs discuss what this means for the future world of work and how the entire dynamics have probably changed for the better, forever.
Moderator
Eika Chaturvedi Banerjee
Founder & CEO - Eikam | WISDOM COACH | Oxford Chevening Fellow
Pallavi Kathuria
Managing Parther, Egon Zehnder
Manu Wadhwa
CHRO, Sony Pictures Networks
Have you enforced new policies, implemented new contracts, and updated your knowledge of employment law for remote teams this year? If not, you could be leaving the door wide open to legal action, fines, data breaches, and even loss of your invaluable intellectual property (IP). As soon as any of your teams begin working remotely, you need to put new protections in place. Similarly, if any of your employees relocated long-term, there are regulations to control their employment and your team needs to learn the ins-and-outs of remote employment.
Discover tips you can implement today, inside and outside the HR team, that will avoid any major headaches or profitability loss before it's too late.
Attendees will discover:
The risks companies leave themselves open to when operating wholly or partially remotely
Tips you can implement today, inside and outside the HR team, to avoid major headaches or profitability loss before it's too late
Best practices for drafting remote work policies and integrating new recruits compliantly
Moderator
Pankaj Bansal
Co-Founder & Group CEO, PeopleStrong
Leena Sahijwani
Human Resources Leader | Change Enabler
Yash Mahadik
President - Global Human Resources & Co-Lead Business Transformation Office, Lupin Global
Smriti Ahuja
Chief People Officer, Times Internet
Sashi Kumar
Head of Sales, India, Indeed
Listen to inspirational stories of resilience, grit and extraordinary accomplishment…stories that reinforce faith in the infinite possibilities that exist, and all that one can achieve by simply believing in oneself. Prepare to be inspired!
Ashwika Kapur
Educator, Science Communicator & Award-winning Natural History Film-maker
Ashissh Kaul
Associate Director - Knowledge & Advisory & Business Head - PSE Business, SHRM India
A CEO with many firsts to her name whose story has inspired millions. Kiran Mazumdar Shaw needs no introduction. A first-generation entrepreneur and global business leader and a force to reckon with in the biotechnology space. Fueled by her passion, she started her biotech journey in 1978 from her garage in India. Today, that journey is changing lives for the better across the globe. She is regarded as an unconventional thinker Join this session to get inspired by the journey and achievements of Kiran Mazumdar Shaw in her own words.
Kiran Mazumdar-Shaw
Chairperson, Biocon
Shoma Chaudhury
Journalist
Sonam Kalra
Award winning singer & composer, Creator of The Sufi Gospel Project
Achal Khanna
CEO, SHRM India & Business Head - APAC & MENA
The pandemic rattled corporate India's structure, and organizations are now faced with the daunting task of rebuilding for a new world. It is imperative to maintain a resilient culture amid the pandemic and all businesses should consider continually adapting to the ever-changing needs of employees.
Learning Objectives:
Clear and consistent recognition of employees and their performance will lead to resilient company cultures in times of crisis
Strategies business leaders can implement to give employees opportunities to express ideas, concerns and perspectives
Drivers to support resilience and prevent burnout and disengagement
Johnny C. Taylor Jr., SHRM-SCP
President & CEO, SHRM
Dave Ulrich
Rensis Likert Professor, Ross School of Business, University of Michigan, and Partner, RBL Group
Corporate immigration continues to lack transparency and predictability, and established technologies are limited to digitizing case workflow. But what if the latest advancements in technology could be leveraged to truly revolutionize global talent management? This session examines how organizations can bring the historically murky and anxiety-riddled immigration process into the modern era of intuitive and delightful user experience.
Learning Objectives:
Understand why technology is a must-have today when data privacy and security are not an afterthought.
Examine how the latest cloud, predictive risk modeling and mobile technologies can help source, mobilize and manage foreign talent in a fast-changing world.
Illustrate how technology can shift an immigration program's mission from repetitive tasks to strategic value-adds to the organization.
Demonstrate how innovative communication platforms, sophisticated compliance tools, machine learning and real-time global people analytics can be leveraged to create an amazing global people experience.
Partha Neog
CEO and Co-Founder of Vantage Circle
In the hybrid workplace, new technologies and rapidly evolving work demands arrive at a dizzying pace. New employment arrangements and global platforms for work are now the new normal. Salary, scheduling flexibility, interactions with teammates and supervisors, and access to paid leave are among the factors that impact our work experiences, which then impact organizational performance and outcomes. The massive transformation in full flow and turbulence in the global business environment has come to influence how the leadership takes shape in such challenging times, which in turn will be a critical variable for future business success and growth. This session examines the new way we work and unpacks what we know about the tight link between work and well-being.
Learning Objectives:
Recognize workplace and health trends in the future of work
Identify and discuss domains for worker well-being
Develop strategies for designing work to help people thrive and reach their full potential
Outline opportunities for shaping workplace policies, programs and practices through supportive leadership and culture
Moderator
Ashissh Kaul
Associate Director, Knowledge & Advisory & Business Head - PSE Business, SHRM India
SY Siddiqui
Executive Advisor, Maruti Suzuki India Ltd.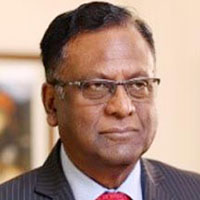 P Dwarakanath
Former Chairman, GSK Consumer Healthcare
In times when the very essence of the workplace has undergone a paradigm shift, Earned Wage Access (EWA) is being looked at as a boon. Not only is this easy to implement, but is also a welcome move for most employees, since it helps them to align their income and expenses better, as well as reduce their need for high-interest credit schemes – all this at no additional cost to the employer! This session discusses the feasibility of implementing practices such as this to improve financial well-being of employees.
Learning Objectives:
Understand why ensuring financial wellness of employees is crucial
Identify ways to bring employee financial wellbeing in focus
Develop, track and implement financial wellbeing initiatives for employees
Apoorv Kumar
CTO & co-founder, Refyne
Listen into the inspirational story of an extraordinary child, offering services ranging from life coaching, to corporate training, and leadership development.
Arnay Agarwal
Founder, eReadingShala
Achal Khanna
CEO, SHRM India & Business Head - APAC & MENA
The most daunting issues organizations say they face is talent scarcity and talent readiness. Many organizations have implemented formal or informal talent development strategies; some with great results, and others with limited results. This session will give you insights on how to best identify, develop and retain your 'high-potentials' ('HiPo's').
Learning Objectives:
Identify how developing and retaining high-potential employees can create a competitive advantage
Explore selection process design strategies to identify the RIGHT high-potentials
Learn the key drivers of a successful program and the impact of COVID-19 and the future of work
Moderator
James Thomas
VP, SAP Success Factors India
Krishna Raghavan
Chief People Officer, Flipkart
Rohit Thakur
CHRO, LEAD School
Raj Raghavan
Senior VP, HR, IndiGo
Mandira bedi started her career in advertising, and soon became a a household name when she starred in India's iconic 'Kyun Ki Saas Bhi Kabhi Bahoo Thee' soap. Her popularity grew as she became a leading Cricket compere and host. She has a vast repertoire spanning Bollywood, Television, Sports, Fitness and Author. Join this engaging and "Happy" Conversation with Celebrity Mandira Bedi as she shares her personal growth story, struggles and learnings based on her book "Happy for no Reason" co-authored with Satyadev Barman and how she got here!
Mandira Bedi
Television Presenter, Author, Actress, Fashion Designer
Archana Jerath
Director, Operations - India, APAC & MENA, SHRM
Sorabh Pant
Stand-up comedian and writer
DAY 2
Well before the pandemic, modern companies had started reimagining traditional performance management. The recent shift to remote and distributed teams has only accelerated the need for this change. For engaging and retaining top talent in the age of the 'great resignation', companies of today are rapidly moving away from annual reviews. So what does new age performance management really look like and how does it work? Join us in this masterclass, to learn emerging best practices from 200+ global, fast growing companies.
Gaurav Chaubey
Co-Founder, Mesh
This talk is about how we can craft our strategy into a memorable and compelling oral story that explains not just the "what" & "how" but the"why". We then discuss how we can use stories to embed the behaviour change we expect from people in order to ensure that the strategy is actually put to work.
By following this process we are able to ensure that:
Leaders truly understand and believe in the strategy and are inspired to share it with their people
Employees are taking action that bring the strategy to life
Employees are making all the day-to-day decisions with the strategy in mind.
Indranil Chakraborty
Founder, StoryWorks India
How can your organization 'get it right' on promoting diversity and inclusion throughout its ranks? Which tools can help your company foster a shared sense of mission and a culture that encourages teamwork among diverse groups while rewarding individual contributions? Advance your organization's culture and empower employees by having an internal Inclusion, Equity, and Diversity Council.
Moderator
Archana Jerath
Director, Operations - India, APAC & MENA, SHRM
Anurag Bansal
Chief Sales Officer, TalentSprint
Tooba M
Sr. Vice President- Head- Learning, Performance & Talent Management, Diversity & Inclusion- Citi South Asia
Venka Reddy
Global HR Business Partner, Infosys Ltd
Pratyusha Sharma
AVP HR, Talent Development & Transformation, Cognizant
Talent landscape in India in the technology sector is code that a lot of Business and HR leaders want to crack. It's a holy grail where every passing year adds a new layer of complexity. The causal linkage of talent's contribution to the value of the organization is perhaps the strongest in the technology space.
This is one sector which is also getting impacted hugely with the pandemic induced Great Resignation.
In this session learn from SHRM India's Knowledge Advisory team along with industry experts about what constitutes the Talent Management ecosystem of the most renowned and successful technology companies operating out of India especially in the new hybrid work reality.
This session will also contribute to a 'soon to be launched' white paper that the attendees will have free access to, which will share some of the practices that have worked for the tech companies, hits and misses and the way forward for the future.
Moderator
Neha Pant
Associate Director - Knowledge & Advisory, SHRM India
Anil Santhapuri
Director of Learning and Development, CGI
Chandrashekarr BS
Head of Total Rewards, India, Adobe
Nupur Mehta
VP Human Resources, NIUM
Rewards and recognition cannot have a one-size-fits-all approach given the differing needs of today's workforce. With an increased focus on employee retention, wellness and inclusion, personalizing the total rewards program is of paramount importance. This fireside chat will be an engaging conversation panning the R&R journey of a leading firm- from initial beginnings to becoming a cultural powerhouse. We will also discuss the role of technology in areas like mapping workforce sentiment, enhancing interpersonal connection and boosting employee motivation using rewards, thereby creating a permanent cultural change.
Kunal Juvekar
Associate Vice President - Cybage Software
Syed Azfar Hussain
SVP - HR, Bajaj Finserv
With employees and HR leaders in need for each other to rise to the occasion, trust and effective tools go a long way to enable the creation of an ecosystem where people safety, productivity and organizational growth can be sustained. With the prevailing challenges here to stay for time unknown, the role of leaders in empowering teams by leveraging smart tools for effective planning will be critical to equipping the workforce with the needed support to function safely and seamlessly through these disruptive times.
In this session, thought leaders discuss how they are coping with the unexpected disruption, talent conundrum, and what is the future of the workforce and what skills are required to survive the new normal.
Moderator
Rajan Kalia
SHRM Advisor & Co-Founder, Salto Dee Fe
Srivatsan Mohan
Chief Technology Officer, Empuls
Gayathri Ramamurthy
Vice President, Learning & Development - India, Capgemini
Dependra Mathur
SVP & Global Head of Human Resources Development (HRD) & Member, Executive Council, Infosys BPM
While seeking to hire the right person for a job, the focus should lie equally on values as well as competence. However, studies and experience show that the character of a person, their core principles, values and overall life view are often primordial in choosing the right applicant. Time and again, it has been proven that skills can be taught or transferred, but a person's character remains largely unchanged, therefore recruiters usually have a difficult task ahead of them, since they must try to identify the true personality of a candidate, as well as how well it fits into the organization's culture. Prepare for a deep dive into perspectives associated with this theme, as part of this session.
Moderator
Dedeepya Ajith John
Director, South & Advisory Services, SHRM India & APAC
Anjali Raghuvanshi
Chief People Officer, Randstad India
Dhanashree Thakkar
Vice President & Head Corporate HR and OD, Bharti AXA Life Insurance
Carmistha Mitra
Group CLO, Axis Bank & Subsidiaries
People bring their best versions to work when they feel appreciated and valued. That's why it's important to recognize and reward employees for their efforts and contributions, however insignificant it might seem. A word of caution though – rewards and recognition are also very difficult to get right. With the right strategy, and by leveraging technology, the right R & R strategy can yield positive effects for your organization.
Moderator
Anjan Pathak
CTO & Co-Founder, Vantage Circle
Vishal Dhingra
HR Director, GoodyearTyre & Rubber
Mridula Shukla Varghese
Director – Talent Practice, Indian Sub Continent & Equality & Inclusion Leader – Asia, Middle East & Africa , P&G
Rajiv Naithani
EVP and Chief People Officer, Infogain
The pandemic has brought about a welcome realization amongst employers, that they hold a major influence on workplace wellbeing by improving the value of workplace financial wellness initiatives, as evidenced by tracking metrics such as employee morale and financial stress, along with measures such as retention and absenteeism, personal financial advisors recommend. Good workplace wellbeing practices have also driven the expansion of these programs and several employers believe employee financial wellness programs and tools help to create more productive, loyal, satisfied and engaged employees. This session will help explore the nuances of the financial aspect of workplace wellbeing.
Session Host
Chitresh Sharma
CEO & co-founder, Refyne
Manuel D'Souza
Former Chief Human Resources Officer, Intelenet Global Services
Dr Sanjay Muthal
CEO, Kontempore Leadership & Business Solutions
The hybrid workplace has brought in the realization that blended learning is a commonsense concept that results in great learning success. The blended learning approach is a lot more than simply acknowledging that one size doesn't fit all when it comes to training. Blended learning can be a big advantage since more than one training method to train on one subject is utilized. Hear from experts on how the blended learning approach closely replicates how people actually learn on the job, through experience and interaction with co-workers.
Nirmala Gopalakrishnan
Senior Service Delivery Manager, Professional Services, Skillsoft
Karthik Rao Ammathi
Regional Head - HR Services at Societe Generale Global Solution Centre
Tapan Sabharwal
AVP and Head of Training - India, Sutherland
As we move forward in a world that is increasingly becoming more virtual by the minute, the strategic intervention of technology continues to ensure that our teams stay connected and businesses successful.
HR tech that once helped automate the recruitment and filing processes alone, today allows HR to do its job more effectively with new-age features and innovations. We are entering the era of work tech where skills-enabled, design-oriented systems that help HR teams design, manage and monitor all areas of the employee experience are becoming a tablestake in companies. But navigating the new waters of work tech demands innovation and usability in the tools as it does for the CHROs to carve out a strategy aligned with the org's goals and outcomes. Unraveling the magic of work tech is this power packed session that will give you a crash course on not just understanding the new tech model, but leveraging it like a pro.
Agenda:
The shift from HR tech to work tech- what, why, how
Key tech trends and innovations
What the shift to work tech means for CHROs' technology strategy and implementation priorities
Moderator
Chaitanya Peddi
Co-founder, Darwinbox
Ramanand Puttige
SVP HR & Head Global Talent Management, Cyient
Cecilia Azavedo
Head of HR Business Partners, Biocon Biologics
Jai Balan
Head - HR, Bharti AXA Life Insurance
Diversity has many definitions. Organizations frequently adapt the definition to their specific environment. Generally, diversity refers to the similarities and differences among individuals accounting for all aspects of their personality and individual identity, some of the common areas being age, gender, disability, ethnicity and so on. Considering diversity is about differences, equity is about providing equal access, and inclusion is about fostering a sense of value and empowerment in employees, the task at hand surely is easier said than done. Uncover the secrets to working with a varied set of team members and learn how important an inclusive workplace culture is, to ensure business success.
Moderator
Abhijit Bhaduri
Founder, Abhijit Bhaduri & Associates
TN Hari
Head HR, Bigbasket
Satish Rajarathnam
SVP HR · Mphasis
Mamta Sharma
Vice President – HR Head – India & Fiserv Global Services
In current times, it has become imperative that employers shift their focus from being reactive to thinking of themselves as ivisionary builders of talent by relying on new assessments, big data and predictive performance, which helps leverage the best tools to identify adjacent skills, help people shift into emerging roles and create clear career paths. The the appetite for learning and continuous upskilling will create the route to better employment security for employees, while creating a culture of learning so that people are equipped and open to adapt and grow with the organization has become a must-have strategy. This session explores ways to ensure this by way of Skilling@Scale with real-life success stories that inspire.
Moderator
Nitya Vijaykumar
Sr. Knowledge Advisor - India, SHRM India
Mustafa Syed
Co-founder & Chief Business Officer, Vani
Anil Santhapuri
Director of Learning and Development, CGI
Prashant Varma
HR Head, Sharaf DG
Training employees for in-demand, hard-to-fill jobs helps them move up the career ladder and reduces the shortage of candidates with critical digital skills. With qualified workers in short supply, companies are training current employees to help them develop skills to meet the changing demands of their jobs. This also helps workers qualify to be promoted to positions in higher demand that often require better digital skills. This session explores the key focus areas to succeed at leveraging technology for upskilling the workforce according to the ever-changing demands of the workplace.
Moderator
Saurabh Singh
Senior Knowledge Advisor,SHRM India
Srikrishnan V
Enterprise Business Head, Hero Vired
Mark T Fernandes
Senior Vice President, Human Resources & Head - Organisation Capability and Development and, DE&I, Kotak Life
Maninder Kapoor Puri
Group CPO, Mastek
There's a lot to learn from emerging-market economies. Workers are more likely to vet companies on career development, financial incentives and working conditions. Customers in emerging markets increasingly want to do business with companies that contribute to the local economy, provide local jobs and take care of local workers, Pearce said. To meet these demands, forward-thinking global companies are already developing country-specific talent strategies and HR programs that make them more attractive to the local workforce. Know more about the top trends in this realm for HR folks to take cues from.
Moderator
Anuj Kathuria
Chief People and Strategy Officer - Waaree Group
Jasneet Kaur
Director – People & Culture, IPM India
Shray Mehandiratta
Director Finance, Planning & IS, IPM India
Workshop B | December 3rd | 11.00am - 12.00pm | IST

Delivering Authentic & Impactful Recognition in the Workplace through the AIRe Framework
Lowell Milken said that "The power of recognition is one of the strongest forces for stimulating human and social action". The power of recognition becomes even more critical to keep the workforce engaged when there are rapid changes in the business & organization structures. In this workshop, deep dive with an expert & learn how we can design, execute and measure the recognition programs.

In this session, you will learn:

How an organization can leverage recognition programs for building culture?
Framework for designing a Recognition program
Hands-on exercise for building an impactful recognition program


Nikhil Norula
Head of Americas,
Vantage Circle
Workshop A | December 2nd | 11.00am - 12.00pm | IST

Effortless Virtual Facilitation: Learn the Art and Science of Facilitating Virtually!
Like it or not, tech-enabled learning is the future. Most of us have experienced virtual learning sessions as a monologue with a bunch of slides, a presenter talking through them and participants at best asking a few questions on the chat. Precisely the reason why most people believe virtual sessions can't be as effective as in-class sessions. What if there was a way to make those sessions more engaging by using a plethora of features the tech- platforms provide which we haven't yet explored and by facilitating in a hyper-personalized manner!

Join us for this complimentary workshop on Effortless Virtual Facilitation to learn how to create these immersive experiences for our learners which have an impact similar to a classroom session!

SESSION OBJECTIVES:

Learner experience simulated on a virtual platform for participants
Learn practical ways to enable impactful learning on Virtual Platforms
Experience brain-storming and sociometry in a virtual class
Learn using polls, chats, videos, word cloud, break-outs to enhance virtual class experience and increase participant interactivity
Get tips on reducing facilitator talk-time in a virtual setting


Nida Shahid
Associate Director, SHRM India


Saurabh Singh
Senior Knowledge Advisor,
SHRM India
Meet a senior Medical Officer from the Indian Navy - Surgeon Rear Admiral Arti Sarin as she shares her journey to the top in a profession that has had viable career opportunities for women since the sixties. Let's find out why the glass ceiling is more of a mental barrier than a physical impediment to success.
Surgeon Rear Admiral Arti Sarin
Commanding Officer, INHS Asvini, Indian Navy
Business scenario is changing rapidly. Some landmark transitions like opening up of energy sector for private, multinational and global players, freeing up of idle assets, asset monetization, climate and sustainability challenges are changing the entire PSE ecosystem. How can leaders reimagine themselves, their people and their organizations during this crucial period?
Moderator
Achal Khanna
CEO, SHRM India & Business Head - APAC & MENA
Manoj Jain
CMD, GAIL
Vartika Shukla
CMD, EIL
Arun Balakrishnan
Former Chairman & MD - HPCL , Founder Chairman, HPCL-Mittal Energy Ltd (HMEL)
Leadership is a behavior, not a position. Leadership is inspiring people to live the vision, mission and values of the organization. Leaders do not just tell people what to do. Great leaders empower people to make decisions that support the goals and vision of the community, ultimately developing smarter solutions. This session delves deeper into a leader's responsibility to inspire and coach.
Moderator
Ashissh Kaul
Associate Director, Knowledge & Advisory & Business Head - PSE Business, SHRM India
Nakul Pathak
Senior Executive Director HR, IFFCO
D. V.Shastry
Executive Director, Natural Gas Society
Hema Mani
Regional Director, Asia Pacific HR, Lennox International
Launch of Joint Whitepaper by SHRM & Upgrad on the test practices and Implications for nurturing the culture of Lifelong learning in the Public Sector Units in India.
V K Singh
Director HR PowerGrid
Achal Khanna
CEO, SHRM India & Business Head - APAC & MENA
Minaxi Indra
President- upGrad for Business
Saravana Velayudham
Head - Customer Success and Growth, upGrad for Business
The systematic development of good leaders is fundamental to long-term organizational success, yet organizations often overlook this aspect or undertake leadership development in a haphazard fashion. Numerous formal and informal means of developing leadership exist; this discussion takes a look at the various facets of succession planning and its critical role.
Moderator
Minaxi Indra
President- upGrad for Business
V K Singh
Director HR PowerGrid
Gautam Ray
Executive Director of CESC Limited &President HR, Power Group of RPSG
Kamakshi Raman
ED-MTI - SAIL
Inclusion beyond Tokenism - Inclusion is the new diversity. While many practitioners say that diversity and inclusion are intertwined, some make critical distinctions between the terms. In the most basic sense, diversity is about counting people, while inclusion is about making people matter.
As organizations struggle to incorporate more diversity, equity, and inclusion, the complexities associated with implementation only increase. Mr. Ranjana Kumar Mohapatra, Director HR, Indian Oil, shares with us ways to improve inclusion, just beyond a tick-in-the-box policy inclusion.
Ranjan Mohapatra
Director HR, IOCL
Dr Alka Mittal
Dir HR, ONGC
Special recognition of the great work done by organizations from the PSU Sectors, in specific categories
Achal Khanna
CEO, SHRM India & Business Head - APAC & MENA
Lyanne Nathaniel
Product Head - Retail & Client Service, SHRM India